Live Cams: Real Amateur Live cams! Horny ladies for live chat and private cybersex! Click here and start chatting, it's FREE!

Click one of these options to navigate: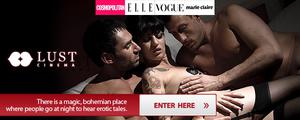 Lust Cinema! Erotic movies of real women and hardcore couples!
This page shows some links to other adult site that I enjoyed. I suggest you check these sites out, because you might enjoy them just as much as I did!

If you find that one of the sites below does not exist anymore, or does not offer what I mention in here (it might have changed!), by all means drop me an email so that I can check it out and update this section when the need arises.


This is a BIG story site, separated in different sections (straight, gay, lesbian and bisexual). Each section has dozens of categories, holding many stories each. This adds up to thousands of stories! You can vote for your each story on a 1 to 10 scale, allowing the system to show top-lists with the highest rated stories. There's also a section where you can check out the new stories.
Add to all this several more features, like a chat board, picture galleries, and so on. You should check this site out, but prepare to spend a lot of time to take a look at all the stuff they have to offer! ;-)


More than 2000 (gasp) stories on this site! They show several categories, so there is bound to be quite a few stories that you will enjoy. The site is low on graphics, so it loads pretty fast! A nice no-nonsense site to browse around and read some more stories.


This site is loaded with stories about forbidden subjects! All the stuff others are afraid to show, well, it's here! :-) However, they do not go overboard with this. No stories about minors, for example. But, if you want to read about these things, this is your site. They have no less than 15,000 in total, because they cover just about all subjects imaginable. There's one catch, though. This is not a free site. You'll have to pay a monthly fee to get in. But with all the content they offer, I think that's only fair!


So what do you do if you like to read, but you're a bit tired of all these stories where everybody seems to be having sex? Do you want to read a "normal" story for a change? In that case you'll have to visit nicestories.com! This is site is modelled after eroticstories.com and offers the same rich set of features. But they have only NON-ADULT stories online. A great many categories are available to choose from, and I've already seen a few hundred stories on this site. If you're done browsing around the sex stuff and want to cool down, this is the site to do it!

This is a site in the same range as EroticStories.com. It's large, very large. Many categories that are loaded with stories, ratings and top lists, a chat board, a large collection of pictures (including a section with amateur pics submitted by the readers!) and so on. Another great site to visit. You'll surely like this site!

Live Cams: Real Amateur Live cams! Horny ladies for live chat and private cybersex! Click here and start chatting, it's FREE!

Click one of these options to navigate:
Playboy Plus! Playmates, Coeds, Amateurs & More

Erotische Sexgeschichten in der Deutsche Sprache? Gratis! Hier klicken! (oder alternativ: erogeschichten, oder erotikgeschichten)

If you have any questions or comments,
please email your webmaster, Art